Cracks in Basement Floor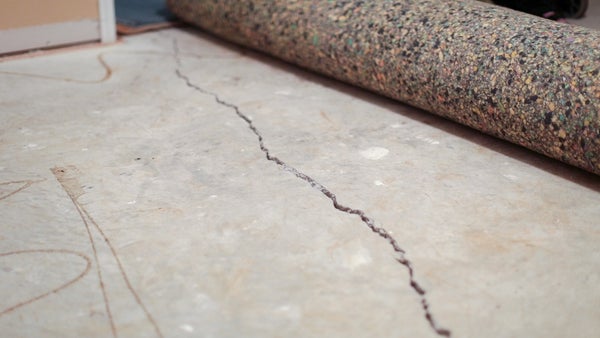 You may think the little crack in your basement floor is harmless but think again. It could be the tip of an iceberg, signaling more extensive foundation issues, water leakage, and even mold growth.
With our expert guidance, we'll dive into the why, the how, and the what-to-do about those troubling cracks. Don't wait for a minor problem to become a homeowner's nightmare. Let's fix it—for good.
What Are Cracks in the Basement Floor?
A crack in your basement floor is more than just an unsightly blemish; it is a wake-up call.
Cracks that extend through or alongside the slab joints, or those near the walls, are typically indicative of serious foundation stress and shouldn't be ignored.
While small hairline cracks might not cause immediate concern, it's always best to have a professional inspect any cracks you notice.
Cracks, regardless of size, are an entry point for moisture, leading to a musty basement, mold, and further structural damage over time.
What Causes Cracks in the Basement Floor?
Cracks don't just appear; they have root causes that are important to identify:
Hydrostatic Pressure: Water accumulation around your home puts pressure on the foundation, causing shifts and cracks.
Soil Settlement: The soil under the foundation may settle over time, leading to an uneven base, and causing cracks.
Frost Heave: Frozen soil can expand and cause foundation upheaval and cracking.
Invasive Tree Roots: Large tree roots can compromise the soil stability, causing shifts and cracks.
Poor Quality Fill Material: Poorly compacted or unsuitable soil can give way over time, leading to foundation issues and cracks.
Concrete Deterioration: Natural aging and environmental factors can degrade the concrete, making it more susceptible to cracking.
Can You Fix Cracks in Your Basement Floor?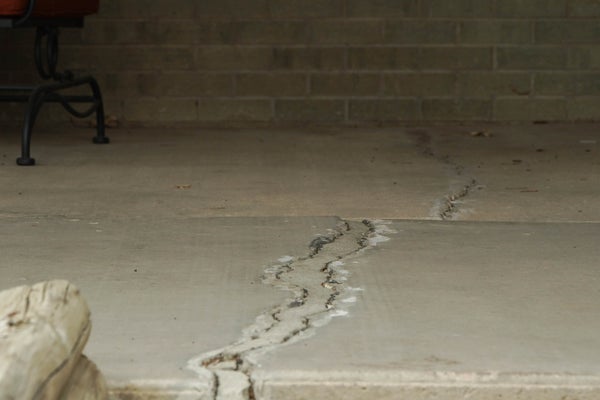 Absolutely! FSM professionals offer a comprehensive approach to effectively treat cracks and prevent their recurrence.
Though DIY solutions may offer temporary relief, they often fall short of addressing the root problem. Our team will:
Conduct a thorough foundation analysis
Customize a robust repair plan
Use high-quality, durable products
How We Repair Cracked Basement Floors
At FSM, we understand that a one-size-fits-all approach won't adequately solve the complex issue of cracked basement floors. That's why we employ a tailored strategy to not only fix the visible cracks but also to address the underlying issues that caused them in the first place.
Here's a closer look at our comprehensive repair methods:
Interior Drainage Systems
Water in the basement often exacerbates existing cracks and creates new ones. Our state-of-the-art interior drainage systems are designed to intercept and channel water away from your home's foundation.
The system includes specially designed interior drainage and strategically placed sump pumps, which direct water away from your home. This ensures that any future water issues are mitigated before they can cause additional cracking or other foundation damage.
Foundation Stabilization
Foundation movement is often a key contributor to basement floor cracking. We offer several robust stabilization methods to halt this movement and reinforce your home's structural integrity. Whether it's foundation piers installed deep into the ground to bear the load of your home, wall anchors that pull back leaning or bowing walls, or carbon fiber reinforcement for enhanced wall strength, we have a solution tailored to your specific foundation issues.
By employing these techniques in concert, FSM provides a comprehensive, long-term solution to your cracked basement floor problem.
Our methods ensure your basement remains safe and dry for years to come.
Why Should You Address Cracks in Your Basement Floor
Waiting can cost you more than just money—it can weaken the structure of your home.
Other reasons include:
Increased Risk of Mold
Foundation Instability
Wood Rot and Pest Infestation
Wall and Ceiling Destabilization
By treating the problem early, you save yourself from future headaches and potentially costly repairs.
Contact Foundation Systems of Michigan Today!
If you've spotted a crack in your basement floor, it's time to take action. Even minor cracks can evolve into significant problems affecting your home's structure and indoor air quality. At FSM, we offer free inspections and provide tailored solutions that go to the root of the issue.
With more than 15 years of experience working in Michigan and northwestern Ohio, we've seen it all when it comes to foundation problems and basement floor cracks. Our local expertise means we're familiar with the unique soil conditions, climate, and other regional factors that often contribute to basement issues.
But it's our commitment to customer service that you'll notice right away. From the moment you schedule a free inspection, you'll experience the FSM difference. Our technicians take the time to understand your specific concerns. Our teams are trained to maintain a clean workspace, keep you updated throughout the project, and complete the job with minimal disruption to your daily life.
When you choose FSM, you're not just getting a repair service; you're partnering with a team committed to the long-term health and stability of your home.
So, don't let a minor crack escalate into a major headache.
Contact us today to schedule your free inspection and get the professional, long-lasting repair your home deserves.
FAQs
The time required for repairs can vary depending on the severity of the cracks and the solutions implemented. Simple repairs may take only a day or two, while more complex issues requiring foundation stabilization could take a bit longer. FSM provides a detailed timeline following your free inspection.
If you notice widening cracks, water seepage, uneven floors, or cracks appearing in walls or ceilings, these could be signs that the problem is escalating. Immediate professional attention is advisable to prevent further damage to your home's structure.
Yes, FSM has extensive experience dealing with various types of foundations. Whether you have a concrete slab, block foundation, or stone foundation, our experts are trained to handle the unique challenges posed by each material.
Publish Date:
Last Modified Date:
Explore more problem signs