Collapsing Retaining Wall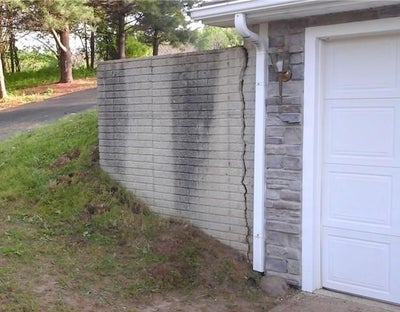 A retaining wall is not merely an ornamental feature—it's instrumental in preserving the stability of your property. When a retaining wall starts to fail, it poses a potential safety risk that could negatively affect the value of your home.
With nearly 15 years of expertise, Foundation Systems of Michigan has been securing homes across the state by providing lasting, professional foundation repairs. Our focus includes the crucial task of stabilizing your collapsing retaining wall.
Read on to gain insight into the causes of retaining wall failures and how expert intervention can prevent further risk.
What Is a Collapsing Retaining Wall?
A collapsing retaining wall is a structure that has compromised its capability to retain the earth and materials it was originally designed to hold. Signs of a weakening wall can present in multiple forms:
Cracks
Tilting or bowing
Full failure and collapse
These symptoms may trigger soil displacement, or even damage to adjoining foundation or basement walls, consequently affecting your entire foundation.
Retaining walls are designed to counteract the lateral forces of the earth, enabling sloped areas to be transformed into usable spaces like gardens, driveways, or patios. When these walls falter, they not only endanger the terrain they support but also pose a safety risk for your family.
What Causes a Retaining Wall to Collapse?
Various factors contribute to a collapsing retaining wall, such as:
Subpar Construction: Using poor-quality materials, flawed design, or an inadequate foundational base may result in wall failure.
Soil Pressure: Over time, the lateral forces from expanding soil, or hydrostatic pressure, could overwhelm the wall's structural resistance.
Water Build-up: Inadequate drainage can result in water accumulation, exacerbating the pressure behind the wall.
Soil Degradation: Erosion at the wall's base compromises its sturdiness.
Invasive Vegetation: Root systems from nearby trees can disrupt the soil and potentially penetrate the wall.
Material Deterioration: As time passes, materials lose their structural integrity.
It's essential to identify the underlying issue to execute an effective, long-lasting repair. Foundation Systems of Michigan offers free, comprehensive inspections to determine these causes and propose the most suitable repair strategy for your situation.
Can You Fix a Collapsing Retaining Wall?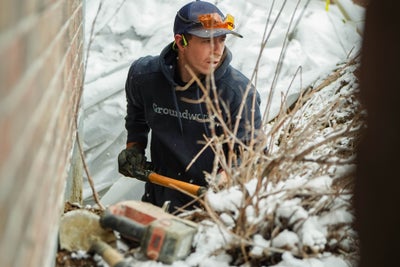 Absolutely. Walls showing marked signs of tilting or cracks can be repaired and stabilized before further damage. However, permanent repair can only be achieved if the root cause is addressed.
Simply filling in cracks or adding soil as a backfill are short-term fixes. For long-term repairs, it's vital to employ a multi-faceted approach that fortifies the foundational base, eliminates excess water, and strengthens the overall structure. Foundation Systems of Michigan specializes in providing these long-lasting, warrantied solutions for retaining wall repair.
How to Fix a Collapsing Retaining Wall
At Foundation Systems of Michigan, we adopt a tailored approach for each unique project. Here's a glimpse into our essential process:
Preliminary Inspection
Our specialists conduct a free inspection of your home and the problematic retaining wall. Based on the root cause, we suggest repair options that align with your needs and financial plan.
Wall Fortification
We install resilient wall anchors to secure the wall definitively, halt any further shifting, and potentially enhance its condition. The installation process involves:
Digging several feet away from the retaining wall
Drilling a hole in the retaining wall
Advancing a connecting rod through the hole
Embedding an earth anchor plate in the excavated area
Attaching the rod and earth anchor plate
Placing a wall plate on the retaining wall
Connecting the wall plate and rod
Backfilling excavated dirt
Tightening the wall plate and rod for potential wall improvement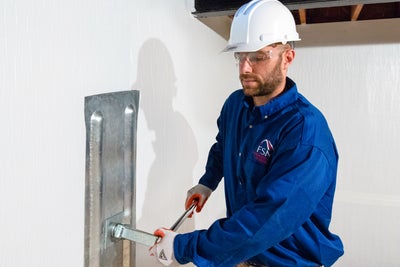 Enhancing Drainage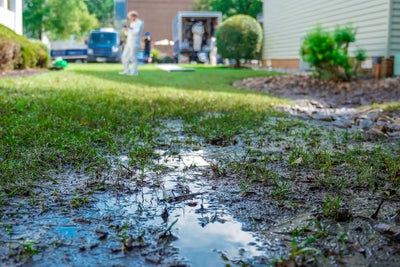 We recommend proper installation and maintenance of exterior drainage systems like gutters and downspouts. These channels are your first line of defense in keeping excess water away from your home and structures like retaining walls.
Foundation Systems of Michigan offers a specialized range of repair products tailored to your unique requirements. Our proprietary solutions are engineered to outperform generic options, delivering more reliable and lasting results.
Why Address a Collapsing Retaining Wall Now
Ignoring early warning signs of a failing wall can lead to:
Severe collapse and property destruction
Safety risks due to tilting walls
Water-related issues from poor drainage
Instability of nearby landscape features or structures
Foundation and basement walls becoming unstable
Increasingly complex and expensive repairs
A significant drop in your property's market value
Trust Foundation Systems of Michigan for comprehensive retaining wall repair services that safeguard your property's landscape. Our leading industry warranty ensures the job is done right, the first time.
Contact Foundation Systems of Michigan for Retaining Wall Stabilization Solutions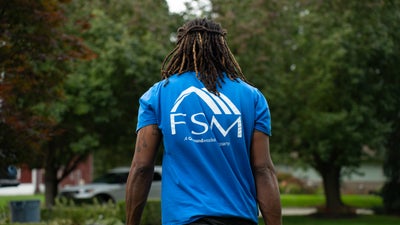 If you notice your concrete, block, or brick retaining walls displaying signs of instability, such as leaning or cracking, contact Foundation Systems of Michigan for a free inspection. Our experienced repair teams will assess the damage and design a personalized solution to permanently stabilize your wall.
With nearly 15 years of experience, FSM can be trusted to restore your property's structural soundness. We back our work with a long-term warranty, underscoring our commitment to your safety and well-being.
Contact us today for the expert repair your retaining walls deserve.
Collapsing Retaining Wall FAQs
Signs of a failing retaining wall include obvious tilting, cracking, bulging, and settling. These symptoms suggest the wall has lost its structural support. Adjoining foundation or basement walls may also show similar signs. 
The repair expenses depend on the extent of damage, the type of repair required, and materials needed. For a free evaluation and transparent pricing options, contact us. 
The duration for repairs can vary but is generally completed within a week. During your complimentary inspection, the reviewer will provide details, including the expected timeline.