Are bouncy floors causing issues in your home? They not only affect the comfort and stability of your home but can also pose safety risks.
Whether you've noticed excessive moisture, pest infestations, or structural problems in your crawl space, it's important to take action.
Our team of experts at Foundation Systems of Michigan is ready to help. Schedule a free inspection today and let us diagnose the root cause of your bouncy floors, providing you with tailored solutions to restore stability and ensure a safer living environment.
Don't wait any longer—take the first step towards resolving your bouncy floor concerns by contacting FSM for a comprehensive inspection. 
How Bouncy Floors Impact Safety and Comfort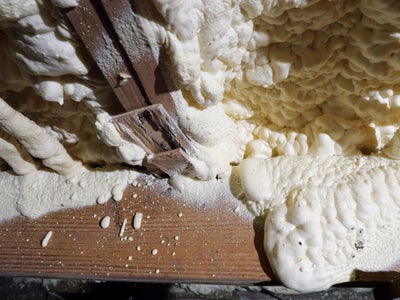 The impact of bouncy floors caused by crawl space issues extends beyond mere inconvenience—it directly affects the safety and comfort of your home.
Bouncy floors create an unstable walking surface, increasing the risk of trips, slips, and falls, especially for children and the elderly.
By addressing the underlying crawl space issues and resolving the bouncy floors, you not only enhance the safety of your home but also restore a sense of stability and comfort for you and your loved ones.
Foundation Systems of Michigan has been restoring peace of mind for homeowners across the state for more than 15 years. Our solutions come with long-term warranties so you can rest easy knowing your home is on solid ground. 
Why Are My Floors Bouncy?
Bouncy floors can be caused by various factors, indicating potential structural issues within a home.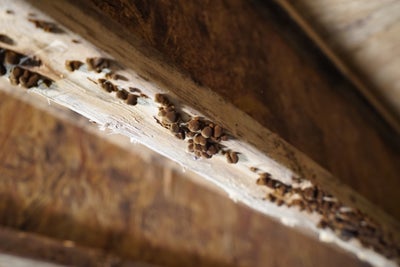 Moisture: Excessive moisture levels in the crawl space can have detrimental effects on structural supports beneath your floors. The presence of moisture can lead to mold growth and wood rot, compromising the floor joists. This issue is particularly prevalent in Michigan and Ohio, where harsh winters, seasonal thaws, and high humidity contribute to the moisture problem.
Pests: Wood-destroying pests— like carpenter ants— can cause significant damage, weakening the structural support and resulting in bouncy floors.
Over Spanned Joists: In some cases, the floor joists may have been installed with larger spans than recommended— which can cause them to flex and result in bouncy floors. This over spanning may occur due to poor construction practices or inadequate support.
Regardless of the reason, bouncy floors are a problem sign you can't ignore. While our weather makes them common, it doesn't make them okay. Trust a professional, local team to restore stability to your home.  
Trust the Professionals at FSM: SettleStop IntelliJack™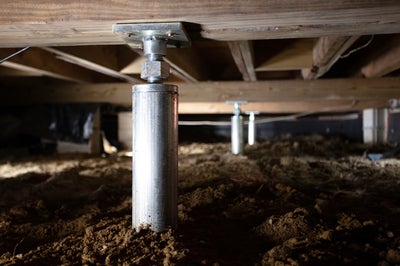 When it comes to repairing bouncy floors, it is crucial to entrust the task to professionals who have the expertise and specialized solutions. 
The team at FSM understands the soil and weather conditions in the area after more than 15 years of working in your neighborhood. That's why we utilize the SettleStop IntelliJack™ system.
These adjustable crawl space support posts are engineered to provide exceptional support, capable of withstanding an impressive 24,000 lbs. per jack. With the expertise of FSM's professionals and the reliable strength of SettleStop IntelliJack™, homeowners can have peace of mind knowing their bouncy floors will be effectively repaired, restoring stability and ensuring long-lasting durability for their homes. 
Restore Stability and Safety: Schedule a Free Inspection with FSM
If you're experiencing bouncy floors and seeking a reliable solution, don't hesitate to reach out to FSM. With their professional expertise and the advanced SettleStop IntelliJack™ system, they have the knowledge and tools to effectively address your bouncy floor problem.
Take advantage of their free inspection, allowing their experts to assess the situation, identify the underlying causes, and provide you with personalized recommendations for repairs.
Don't delay – call FSM today and take the first step towards restoring stability and peace of mind in your home. 
FAQ: Bouncy Floors
High levels of humidity? There's a good chance mold will grow on the wood. Wood rot can also be very sneaky in the sense that it can grow on the wood without any discoloration. The best way to test the wood for rot would be to use a screwdriver or a pencil. If the wood shows any signs of softness at all, it is rotting.
Indirect signs would be those that you can detect away from the rotting wood, usually in your household. The biggest indicator would be a strange smell wafting from the crawl space or basement. Due to the stack effect, the air in your foundation rises toward your home, meaning that the spores and smell of mold will be noticeable throughout the house. Another good way to test for wood rot would be to simply check the humidity levels in your home. Crawl spaces and basements tend to be a lot more humid than the rest of the house, so if the humidity levels in your home are extreme, it goes double for the humidity in your basement.

 An easy wat to check if the humidity is coming from your crawl space would be to use a moisture meter. 
 
If your home is experiencing increased levels of humidity and you have a crawl space that isn't waterproofed or sealed, you need to act fast. High humidity problems that stem from your crawl space is just the beginning of your problems. It indicates that your foundation has a serious drainage issue that will affect its structure in due time. Once you've determined that your crawl space is the cause of all your humidity problems, get in contact with a foundation repair company as soon as you can. 
 
There are two types of insulation materials you can choose from: absorbent insulation and reflective insulation.

Absorbent insulation, particularly fiberglass, is the most used insulation material in the industry. Absorbent insulation is great at absorbing heat, but it is also great at absorbing moisture. It can host mold and fungi, so try to keep that in mind when choosing an insulation type. Unless you want to replace your insulation every few years, you need to choose something a little more durable.

Reflective insulation types are the best for crawl spaces. Reflective insulation controls airflow and retains heat in a space by reflecting it. These panels not only make sure your foundation is warm, but it also does so without contributing to mold growth and lasts for years.