WallSeal™ Basement Wall Vapor Barrier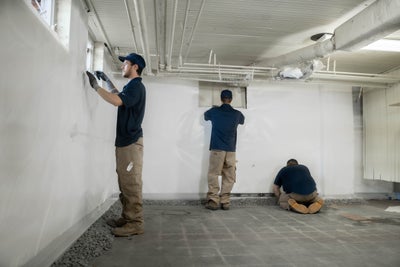 The idea that basements are destined to be damp is a big misconception. A damp basement actually poses serious risks to your home and family, but there is a solution.
Our AquaStop WallSeal™ Basement Wall Vapor Barrier, when integrated with our advanced waterproofing solutions, delivers unmatched moisture resistance for your basement.
As leaders in the basement waterproofing industry, Foundation Systems of Michigan utilizes a high-grade vapor barrier to shield your home from potential water damage.
What is the AquaStop WallSeal™ Vapor Barrier?
AquaStop WallSeal™ Vapor Barrier is a heavy-duty 120-mil thick sheeting, specifically engineered to stop moisture infiltration through your basement walls.
This barrier is securely anchored to the walls, channeling any seepage into our superior AquaStop BasementGutter™ interior drainage system, providing instant protection for damp walls. This top-tier vapor barrier is an important element in our whole-home approach.
Integrating a vapor barrier with other waterproofing solutions such as a sump pump and a dehumidifier, strengthens your home and adds value.
Signs You Need a Basement Wall Vapor Barrier 
A vapor barrier could be pivotal if you encounter:
Moisture on walls
Cracks in basement walls
Ignoring these warning signs or postponing repairs could result in severe damage and health issues.
Foundation Systems of Michigan offers free professional inspections and custom solutions when these issues arise in your basement.
Is a Basement Wall Vapor Barrier Necessary? 
In many cases, yes. A basement wall vapor barrier is vital for a complete basement waterproofing strategy. Your inspector will let you know if your unique basement will benefit from a vapor barrier or not.
Moisture can infiltrate even through seemingly intact walls due to the porous nature of concrete, leading to unseen water damage and making subsequent repairs more difficult and expensive.
Address this issue proactively by installing the AquaStop WallSeal™ Vapor Barrier, an important feature in our comprehensive approach to keeping your home dry and healthy.
What Are the Benefits of the AquaStop WallSeal™ Vapor Barrier? 
The benefits of our premium vapor barrier include:
Long-lasting Protection: Made of high-quality material, our wall vapor barrier will stand the test of time.
Healthy Home: A wall vapor barrier lowers humidity and stops mold growth, ensuring a healthier living environment.
Stops Damp Odors: By sealing out moisture, WallSeal™ eliminats the source of musty smells, especially when combined with a dehumidifier.
Safeguard Possessions: Protects stored items, prevents damage to valuables and safeguards wood by maintaining a dry environment.
Boost Property Value: A well-preserved dry basement increases your property's market value.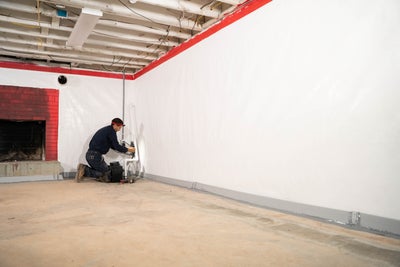 To get the most out of the AquaStop WallSeal™ vapor barrier, it must be installed correctly. Our certified technicians use the proprietary products and techniques perfected by Foundation Systems of Michigan to give you the driest, healthiest basement possible.
How the AquaStop WallSeal™ Vapor Barrier Works 
After a certified FSM inspector completes an inspection and finds the AquaStop WallSeal™ Vapor Barrier necessary, it is integrated within our extensive array of waterproofing solutions.
The procedure encompasses:
Wall cleaning and preparation.
Secure attachment of AquaStop WallSeal™ sheets.
Installation of interior drainage and other components.
Sump pump placement at the lowest point of the basement.
Connection of drainage to the sump pump.
Installation of a basement dehumidifier.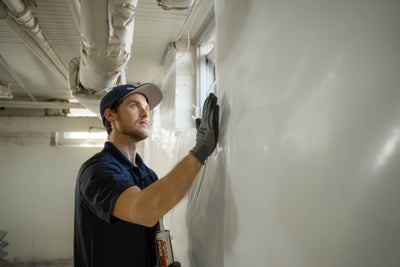 Why Our Basement Wall Vapor Barrier is the Best Choice for Your Home 
The AquaStop WallSeal™ Vapor Barrier stands out due to its:
Premium 120-mil thick material.
Mold-resistant and waterproof properties.
Permanent wall adhesion.
Integration capability with our complete waterproofing system.
Long-term warranty.
Availability of annual maintenance plans.
Vapor barriers found at big box stores pale in comparison to the effectiveness of AquaStop WallSeal™, an exclusive product of Foundation Systems of Michigan.
Connect with Foundation Systems of Michigan for Vapor Barrier Solutions! 
There's no need to endure a damp basement. Revitalize your home with our comprehensive basement waterproofing system. Reach out for a free, no-obligation inspection and quote.
For years, we have been the trusted choice for basement solutions in Michigan. Experience unparalleled customer service and our exclusive products to rejuvenate your home's vitality and restore tranquility.
FAQs
Absolutely, it is intended to foster a healthier living space by minimizing moisture and inhibiting mold growth. 
Typically, our skilled team can install the entire system within one to two days, depending on the basement conditions and other necessary interventions. You'll be provided with a precise timeline and installation date if you choose FSM for your waterproofing. 
Our vapor barrier is designed to be a permanent solution when combined with our other waterproofing systems; however, annual servicing is recommended to ensure peak performance. Our team will conduct necessary inspections and adjustments to maintain optimal conditions.  
Publish Date:
Last Modified Date: