IntelliBrace™ Wall Repair System
Choose the IntelliBrace™ Wall Repair System to stop potential structural failure caused by cracked and bowing walls in your basement. FSM offers advanced basement repair solutions to maintain the structural integrity of your home.
Learn more about the IntelliBrace™ system so that you can make the most well-informed decision for your home.
What Is the IntelliBrace™ Wall Repair System?
The IntelliBrace™ Wall Repair System is a patented innovation specially designed to stabilize failing basement walls.
IntelliBrace™ beams differ from standard I-beams in that they are anchored both to the floor joists and the floor, providing maximum rigidity to the structure. These beams not only immediately secure the wall against any further deterioration, but also allow for incremental adjustments.
With the IntelliBrace™ System, gradual tightening over time can help guide bowed or tilted walls back towards a straighter, more vertical position.
7 Signs You Need IntelliBrace™
Structural issues are the biggest sign that you need basement wall repair, but they're not the only ones. High humidity and mold are signs that water might be coming in through unseen cracks.
Here's a more extensive list of key indicators:
Sheering Walls
Basement wall cracks
Floor and wall gaps
Is the IntelliBrace™ Wall Repair System Necessary?
If your basement walls are bowing, it's important to reinforce them right away. Waiting to make repairs will only make things worse and cost more later on. That's why we suggest using the IntelliBrace™ system as soon as you notice a problem. This advanced repair solution is part of our complete approach to protecting your entire home.
With FSM, you get tailored solutions for your basement's specific needs. While the IntelliBrace™ system is often the best choice, we may recommend other products like wall anchors, channel anchors, or carbon fiber straps. These alternatives also provide excellent protection for your home.
Don't hesitate to contact our team for a thorough, no-obligation inspection and estimate. We'll ensure that your home is safeguarded according to its unique requirements.
4 Major Benefits of the IntelliBrace™ Wall Repair System
Painless Installation: The IntelliBrace™ system is installed inside your basement, so you don't need to dig outside. It also takes up less space than traditional I-beams.
Stronger Support: IntelliBrace™ beams offer better stability than traditional I-beams, making sure your home's basement walls are securely held in place.
Wall Straightening: In addition to providing support, the system allows homeowners to potentially straighten their walls over time, restoring structural integrity.
Industrial Quality: Our unique product development ensures homeowners receive the best solution available, superior to generic, big box store options.
Overall, the IntelliBrace™ system is a powerful and effective solution for addressing basement issues, ensuring long-term stability and safety while also addressing immediate structural problems.
How FSM Installs the IntelliBrace™ Wall Repair System
Step 1: Free Inspection
We start with a free, no-obligation inspection of your home to determine the extent and nature of the damage to your basement. Our team will check if this solution is necessary, take accurate measurements, and indicate where to install the beams.
Step 2: Cut the Beams to Size
FSM provides personalized basement solutions tailored to your specific needs. We inspect your basement to determine the wall height before installing the system. Each beam is then cut to fit your specific dimensions, ensuring a custom-built solution for your home. This saves time and ensures the job is done right the first time. You can trust us to pay attention to the details and provide quality workmanship for your peace of mind.
Step 3: Install Floor Joist Components
To install an IntelliBrace™, attach the top of each brace to a floor joist near the top mudsill of the wall using a thick bolt. After installation, adjust and tighten the bolt as needed. The installation process won't damage your floor framework. Our experts will check the strength of your floor joists before recommending this repair to ensure its effectiveness.
Step 4: Position Each Beam
To ensure the proper functionality of the IntelliBrace™ system, it is necessary for each I-beam to be plumb or vertical. Our installation crew will adjust the position of each beam using a level in preparation for the next stage.
Step 5: Anchor Beams to the Floor
To finish the setup, we attach all beams to the concrete basement floor with a special bracket that bolts in place. The IntelliBrace™ System goes all the way up the basement walls, which is unlike normal ways of repairing walls.
Step 6: Tighten the Beams
The IntelliBrace™ system has a special floor joist anchor that is different from other I-beam wall repairs. It has an adjustable bolt that can be tightened gradually for continuous stabilization. You can schedule regular maintenance of our solutions to ensure that your home stays protected.
Why IntelliBrace™ Wall Repair System Is the Best Choice
The IntelliBrace™ Wall Repair System can fix bowing basement walls using strong materials that won't cause damage to your home or yard. We are able to repair walls that buckle or tilt in the center or slide inward from the bottom. In addition, we offer annual maintenance services and flexible financing options to ensure that you are covered for the future at an affordable price.
Call FSM for Trusted Basement Wall Repair Today!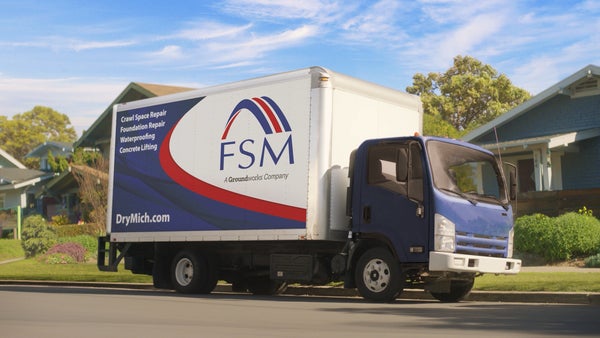 Do not postpone basement repairs, as it can lead to more severe issues and higher expenses down the road. At FSM, we prioritize your home's safety and security. By entrusting FSM with your basement repairs, you can save thousands of dollars on future damages, and we guarantee efficient service from the start.
Choose FSM to secure your family's safety. Book a free inspection today and take the first step towards protecting the future of your home.
FAQs
The installation process typically takes one to two days but can vary depending on the extent of the damage and the size of your basement.
Yes, the IntelliBrace™ system is covered by a warranty. FSM offers a transferable warranty on all basement repair products, including the IntelliBrace™ system. 
Yes, it is safe to live in your home during the installation process. Our installation crew takes all necessary precautions to ensure your safety and minimize any disruption to your daily life.