SettleStop™ Carbon Fiber System
Discovering wall cracks, tilting, and bowing walls in your basement can be a source of stress for any homeowner. Not only do these common issues jeopardize your home's structural integrity, but they can also diminish its value.
Fortunately, there is a solution. FSM specializes in basement problems and offers a simple approach to addressing these problems: the SettleStopTM Carbon Fiber wall reinforcement system.
This cost-effective solution will reinforce basement walls and help restore peace of mind.
By reading this page, you'll gain valuable insights into how our solution can safeguard the walls in your home. Trust us to provide the tools and expertise needed to fix your basement for good.
What Is Carbon Fiber Basement Wall Reinforcement?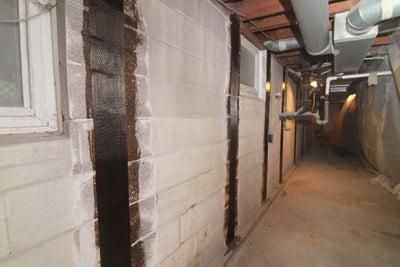 SettleStopTM Carbon Fiber System is a cutting-edge solution for stabilizing foundation walls showing signs of stress.
Using the remarkable strength of carbon fiber, which is 10 times stronger than steel once installed, these durable straps firmly bond to basement walls to stop movement and damage.
They are ideal for walls with minimal issues that have moved inward less than two inches. Unlike bulky beams or anchors, carbon fiber blends in discreetly and can be covered with basement finishing.
Know the Signs Your Walls Need Reinforcing
Keep an eye out for these common symptoms that your walls require stabilization:
Top of walls tilting inward
Less than two inches of wall movement
If your walls have substantial damage, our wall repair system or anchors may be better solutions.
Contact us for an inspection to determine which fix is right for you.
Is Carbon Fiber Basement Wall Reinforcement Necessary?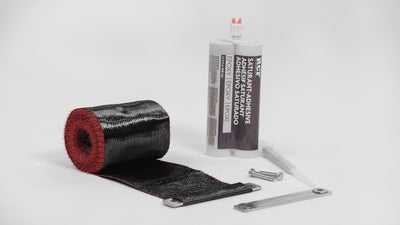 Yes! Reinforcing at the first signs of damage prevents more serious structural problems down the road and escalating costs.
Our carbon fiber seamlessly integrates into our complete structural repair approach to keep your home safe for years.
Benefits of Carbon Fiber Wall Reinforcement
Structural Support
Carbon fiber straps significantly enhance wall strength to stop additional damage.
Low-Profile Look
The thin straps blend in discreetly with minimal visual disruption. They can easily be concealed with paint or drywall.
Long-Lasting Solution
Carbon fiber doesn't corrode like other materials, giving it a longer lifespan than some repair methods on the market.
Our proprietary carbon fiber system surpasses generic products in durability and performance.
How We Professionally Install Carbon Fiber Basement Wall Reinforcement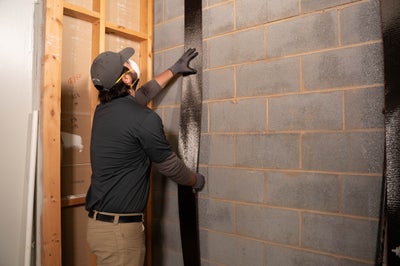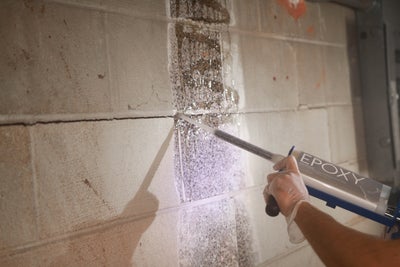 While each home is different, this is generally how our team installs this solution:
Assess the basement wall's condition
Indicate the designated installation points for the straps
Clean and sand down the wall surface for proper adhesion
Attach a bracket to the sill plate
Apply a high-strength epoxy to the wall
Affix the carbon fiber strap to the epoxy-coated wall
Thread the strap through the sill plate bracket
Apply another coat of epoxy to the strap and wall
Ensure the strap is firmly bonded and secured
Trust FSM for precision installation, ensuring lasting protection for your home.
Why Choose Our Carbon Fiber Basement Wall Reinforcement System
Discreet appearance
Unparalleled strength
Prevents future cracking and bowing
Integrates with other solutions
Exclusive to our company
Annual maintenance service plan
Contact FSM for Carbon Fiber Wall Reinforcement Today!
Spotting basement wall damage doesn't mean your home will collapse. Early reinforcement with proper installation prevents catastrophe and boosts safety and value.
With more than 15 years of experience repairing and protecting Michigan and northwestern Ohio homes, FSM is your go-to for proven wall stabilization.
Contact us for a free inspection and start protecting your foundation.
FAQs
Depending on the wall condition, the process typically takes less than a day. You will receive a timeline during your free inspection.
Yes. The thin, dark straps remain visible on the wall, but paint or drywall easily conceals them.
It's designed primarily for concrete block or poured concrete walls with minor to moderate damage.