Cracked Driveway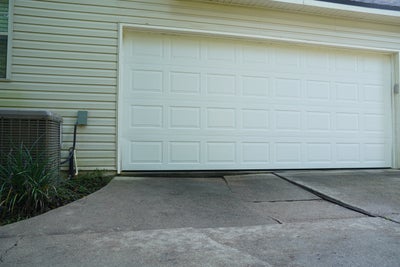 Although a cracked driveway might seem common, it's an issue that shouldn't be overlooked. Beyond the negative impact on your home's visual appeal, it's a safety concern for both you and visitors.
It's easy for someone, especially individuals with mobility challenges, to trip over uneven or cracked sections of a driveway. Plus, these cracks could damage your car and even impact your home's foundation.
Foundation Systems of Michigan is ready to help tackle this common problem. With our advanced concrete lifting solutions, we ensure durability and precision in addressing your concerns, giving homeowners the assurance of a safe and level driveway.
This article will guide you through the reasons behind cracked driveways and how our concrete lifting techniques can restore your driveway's integrity.
What Is a Cracked Driveway?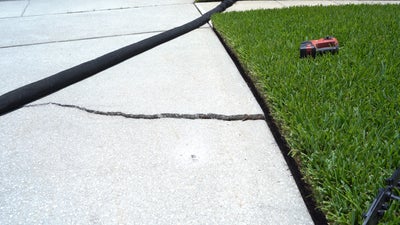 A driveway that has breaks, cracks, or linear imperfections over time is what we refer to as a cracked driveway. These issues can be as minor as thin, hairline cracks or as extensive as wide, clearly visible gaps.
Your driveway might exhibit one or many of these cracks. Not only are they an eyesore, but they pose considerable safety threats, potentially causing accidents or injuries. 
Moreover, if you observe cracks in your driveway, there's a chance you might also find:
Cracked sidewalks
Damaged concrete patios
Settling porches
Sinking concrete steps
Cracked pool decks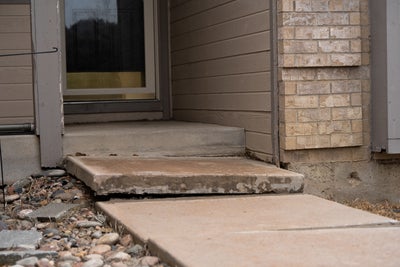 To ensure safety and prevent additional damage, cracked driveways demand timely professional attention. We urge you to contact us at the earliest sign of damage.
What Causes Driveway Cracks?
There are many reasons behind cracked driveways, including:
Ground Issues: Settling or eroding ground beneath the driveway can lead to unequal pressures, causing cracks.
Vegetation: Roots from trees, when growing close or under driveways, can push the concrete upward, leading to fractures.
Weather: Excessive rainfall can erode the supporting ground, while our multiple freeze-thaw cycles can expand existing cracks.
Other Climate-Related Factors: The natural expansion and contraction of concrete due to temperature variations play a role.
Installation Flaws: If the concrete was improperly poured or cured, it's more vulnerable to damage.
Vehicular Weight: The continual pressure from vehicles, ranging from small cars to hefty trucks, can strain the driveway.
These elements can also compromise your home's foundation, reinforcing the need to promptly address any issues. Foundation Systems of Michigan is here to help you with the most effective treatments.
Can You Fix a Cracked Driveway?
Absolutely, you can fix cracked driveways. However, as cracks widen and deepen, the options for repair lessen. Early intervention is crucial.
Simple crack sealing or conventional mudjacking methods might offer a temporary relief, but they aren't long-term solutions. To truly fix the problem, it's essential to address foundational causes like unstable soil. Concrete lifting, which lifts and stabilizes sunken sections, is the best approach. Foundation Systems of Michigan uses specialized techniques to ensure every repair is lasting and precise.
How to Fix a Cracked Driveway
Foundation Systems of Michigan's concrete driveway repair involves:
Thorough initial assessment to identify the cause and suggest appropriate repair solutions like SettleStop™ PolyRenewal™.
Drilling small, discreet holes in the affected driveway sections.
Inserting injection ports within these holes.
Mixing and injecting a two-part, closed-cell polymer foam.
This foam expands, fills voids, and hardens within 15 minutes.
The concrete slab lifts and stabilizes the underlying soil.
Remove injection ports and fill and smooth the drilled holes.
Sealing cracks to ensure no further degradation.
Regular inspections and upkeep of your driveway.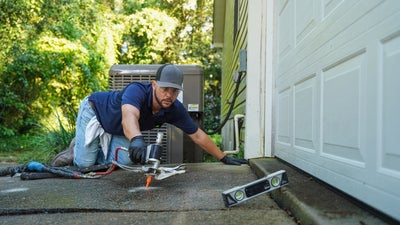 We take pride in our innovative solutions that outshine competitor options. Our proprietary polyurethane foam solution ensures swift and accurate concrete lifting, resulting in more sustainable results than traditional mudjacking and causing minimal disruption.
Why Address Driveway Cracks Now
Addressing cracked driveways promptly is vital due to:
Escalating Damage: Early intervention can stop larger foundational complications.
Safety Concerns: Unrepaired cracks pose dangers, from tripping hazards to potential vehicle damage.
Aesthetics & Value: A well-maintained driveway boosts your home's appeal and worth.
Cost-Efficiency: Addressing issues sooner can save significant repair costs in the future.
Don't settle for bandage fixes. For long-lasting, efficient solutions, look no further than our advanced concrete lifting PolyRenewal™ system. Foundation Systems of Michigan is here to help you lift your driveway, ensuring it stands the test of time.
Reach Out to Foundation Systems of Michigan for Expert Concrete Lifting Solutions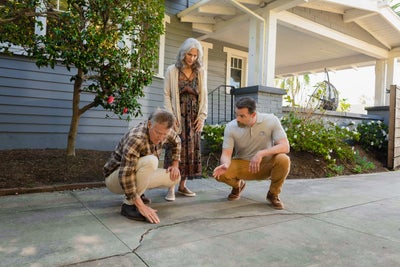 Don't let a cracked driveway compromise your home's curb appeal or safety. If you're struggling with driveway issues, Foundation Systems of Michigan's concrete specialists are ready to help. Schedule a free inspection and quote today.
We understand the frustrations homeowners face due to cracked driveways. FSM is here to make the repair process as simple and straightforward as possible. Our advanced technology ensures sunken concrete slabs are lifted and stabilized with precision and speed.
FAQs
While minor surface cracks can be mainly cosmetic, larger, deeper cracks can signal underlying issues and might lead to more significant damage if not addressed.  
When installed proficiently, concrete driveways can endure for two decades or more under regular conditions. Nevertheless, many driveways may manifest minor imperfections over their lifespan. 
Foundation Systems of Michigan excels at repairing concrete driveways, extending their life with our cutting-edge concrete lifting process.
Yes. Proper water drainage, ensuring a well-prepared base, and avoiding excessive weight on the driveway can help prevent cracking. 
Publish Date:
Last Modified Date:
Explore more problem signs