Cracked Sidewalks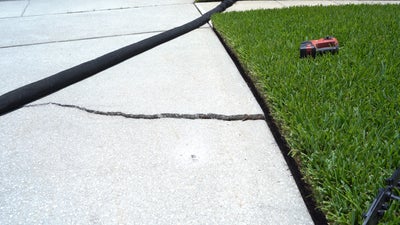 Keeping a smooth and level concrete sidewalk is essential for both the safety and visual appeal of your home. Cracks and uneven slabs in your sidewalk are a serious hazard.
Foundation Systems of Michigan recognizes the importance of repairing cracked concrete sidewalks. We use our state-of-the-art SettleStop™ PolyRenewal™ concrete lifting method. This targeted solution repairs the damaged concrete sidewalks while strengthening the soil beneath it. This ensures your home is surrounded by safe and visually appealing sidewalks for years to come.
Learn why immediate intervention with our specialized concrete lifting techniques is pivotal.
What Is a Cracked Sidewalk? 
A cracked sidewalk is a walkway with cracks or separations on the concrete pathway adjacent to a home or business.
These gaps can differ in size and depth, jeopardizing the sidewalk's structural solidity. Beyond visual defects, cracked sidewalks highlight deeper issues and present serious risks of accidents.
In addition to these, cracked sidewalks might also be accompanied by:
Uneven concrete stairs
Cracked concrete patios
Sinking porch
Cracked pool surrounds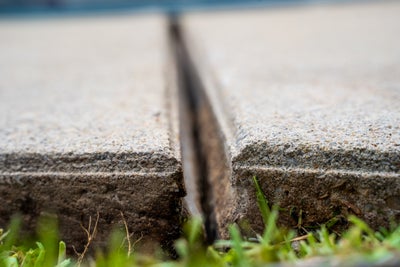 If not repaired quickly, sidewalk cracks can expand, leading to more intricate structural challenges and potential legal concerns for homeowners. Over time, untreated cracks can exacerbate as the slabs sink deeper into the soil beneath.
To safeguard your property, contact Foundation Systems of Michigan.
What Causes Sidewalk Cracks? 
Factors leading to sidewalk cracks include:
Underlying Soil Issues: Erosion or settling of the soil beneath the concrete is a prime culprit. The displacement of this supporting soil can compromise the structure of the sidewalk.
Expanding Tree Roots: The growth of tree roots can exert upward pressure on the concrete, causing it to crack.
Weather Fluctuations: Strong weather, especially heavy rainfall or rapid freeze-thaw cycles can erode the underlying soil or increase existing cracks.
Subpar Installation: Inadequate curing time, insufficient reinforcement, or a weak base can result in premature cracking.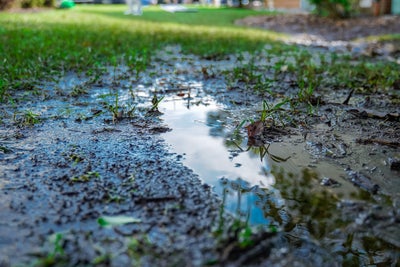 Recognizing the root cause is vital to devise an enduring solution, preventing repeated damages, especially since these issues can affect your home's foundation simultaneously.
Can You Fix a Cracked Sidewalk? 
Yes, repairs are possible for cracked sidewalks. However, a comprehensive approach is indispensable to address the underlying issue.
Common DIY measures often fall short. Filling the cracks with store-bought materials is a temporary remedy. The root causes behind the fractures remain unaddressed.
For a sustainable solution, turn to Foundation Systems of Michigan's concrete repair specialists. We provide comprehensive solutions, focusing on the root problem to avoid future damage. Our SettleStop™ PolyRenewal™ technique is adept at raising, stabilizing, and restoring damaged concrete sidewalk sections.
How to Fix a Cracked Sidewalk 
Foundation Systems of Michigan deploys the cutting-edge PolyRenewal™ technique to rectify uneven sidewalks. Here's the process:
Conduct an inspection to identify the underlying problems and create a PolyRenewal™ plan.
Drill small, penny size holes in the affected slabs.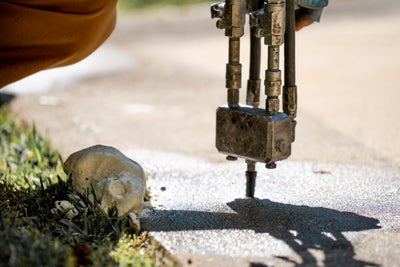 Place injection nozzles into these openings.
Mix our exclusive two-part polymer solution.
Inject this mixture beneath the compromised slabs via the nozzles.
The compound quickly expands, filling voids, and lifting concrete.
Within 15 minutes the sidewalk is elevated, and the foundational soil fortified.
Remove the nozzles and seal the openings.
Ensure all cracks are sealed to keep out moisture.
Regular checks and maintenance are vital to prolong sidewalk lifespan.
Our tailored polyurethane solution, PolyRenewal™, offers a superior remedy compared to conventional mudjacking, poses lesser disruptions than complete slab replacements, and is resilient against erosion.
Why Address Sidewalk Cracks Now 
Acting promptly on uneven sidewalks is pivotal to:
Stop Accidents: Raised sections pose tripping dangers.
Prevent Legal Problems: Unsafe sidewalks could lead to lawsuits.
Cost Benefits: Neglect can lead to pricier interventions like complete replacements in the future. Addressing the problem early can save money in the long run.
Uphold Property Worth: Aesthetic sidewalks boost your home's marketability.
For an all-encompassing solution, choose Foundation Systems of Michigan and our unmatched, professional repair techniques.
Contact Foundation Systems of Michigan for Reliable Concrete Lifting Solutions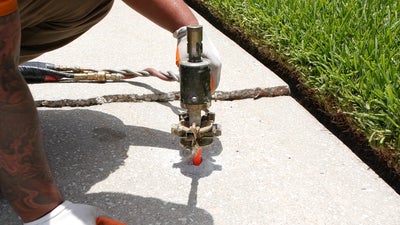 Don't let your sidewalks deteriorate further. Repair cracked and uneven sidewalks with Foundation Systems of Michigan. Our cutting-edge techniques ensure your sidewalks remain durable and attractive.
With a legacy of serving Michigan and Ohio homeowners for more than 15 years, our seasoned team is committed to restoring the integrity of your concrete surfaces. Homeowners trust our unmatched service quality and pioneering solutions.
Contact us for a free, no-obligation inspection, and let us repair your property's appeal and safety!
FAQs
Depending on local regulations, property owners might be held liable for injuries resulting from poorly maintained sidewalks adjacent to their property. 
Yes, SettleStop™ PolyRenewal™ is environmentally friendly, ensuring no adverse impact on the surrounding ecosystem. The compound remains intact under the concrete and doesn't seep into the earth.
Yes, consistent water runoff can erode the soil beneath the sidewalk, leading to settling or movement and resulting in cracks. 
Publish Date:
Last Modified Date:
Explore more problem signs