Wall Anchors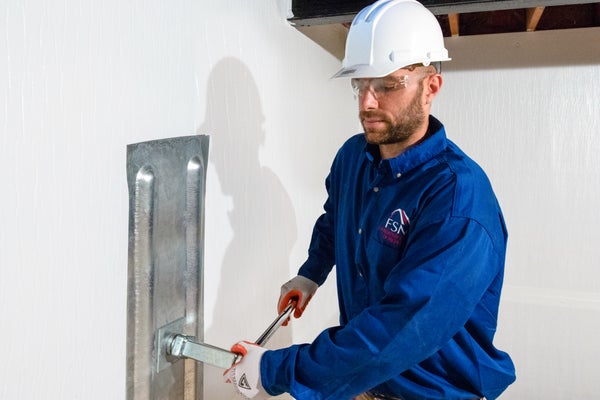 Have you noticed foundational damage like bowing walls and cracks in your basement? These are red flags of structural issues needing reinforcement.
A dependable wall anchor system is key to fortifying your foundation and stopping further damage.
Strengthen your home's foundation today with Foundation Systems of Michigan's wall anchor system.
What Exactly Are Wall Anchors?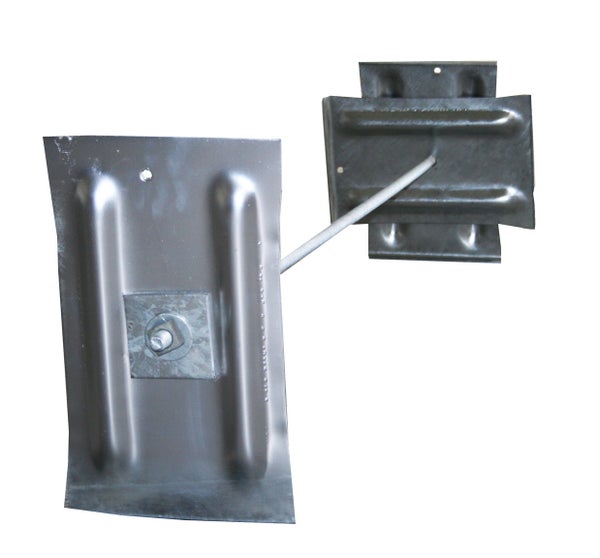 Wall anchors stabilize foundation walls that are moderately to significantly damaged or are bowing inward two inches or more.
An earth anchor is buried in the ground approximately 10 feet away from the wall in stable soil, and it is connected to an interior wall plate by a galvanized steel rod.
A bolt on the interior plate can be tightened by our technicians to help restore the walls.
Signs You Need Wall Anchors 
So, how do you know if wall anchors are the right solution for you?
Learn these identifiable signs that your home's foundation may benefit from wall anchors:
Cracked Basement Walls: Horizontal or angular cracks signify inward wall movement.
Leaning Walls: Walls skewing in from either top or bottom require additional support.
Water Accumulation: Seeping water or dampness suggests structural and potential health risks.
Unpleasant Smells: Foul, musty scents often indicate water intrusion and mold growth.
Act early with wall anchors to prevent these problems from escalating.
Is a Wall Anchor System Necessary?   
Yes! Ignoring warning signs can compromise your home's safety. Continued inaction leads to leaks, mold hazards, and eventual complete structural failure.
Incorporating wall anchors into a whole-home repair strategy is necessary. Pairing drainage solutions, like interior drains and sump pumps, with wall anchors provides comprehensive protection.
Benefits of FSM Wall Anchors 
Foundation Systems of Michigan installs fully customized wall anchor systems with numerous advantages:
Stop lateral movement and stabilize failing foundation walls
Relieve foundation pressure
Prevent continued widening of existing cracks
Avoid costly full foundation replacement
Receive a transferable warranty
Our proprietary wall anchors also integrate seamlessly with other solutions like drainage improvements or our IntelliBrace Wall System.
Our Wall Anchor Installation Method 
While all homes have unique characteristics, a typical installation of wall anchors will look something like this: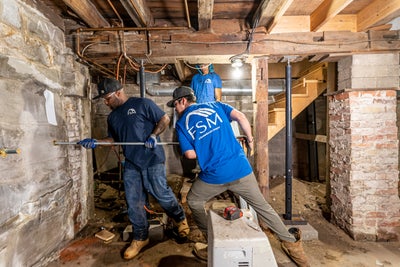 Site Preparation: Our specialized crews will measure locations for each wall anchor. We don't guess about the spacing of these products. There is robust engineering backing this.
Interior Drill: A 1 inch hole is drilled in the foundation wall based on the location marked. This hole will be waterproofed towards the end of the repair.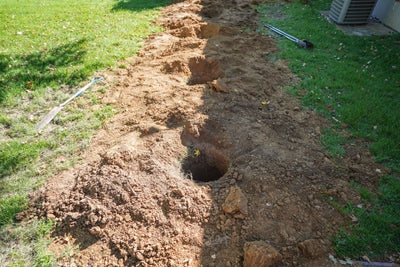 Exterior Dig: Outside, about 10 to 12 feet from the damaged wall, a hole is dug. All soil is saved methodically to minimize damage.
Insert Anchor Rods: A high-strength galvanized steel rod is driven through the hole in the basement into the soil.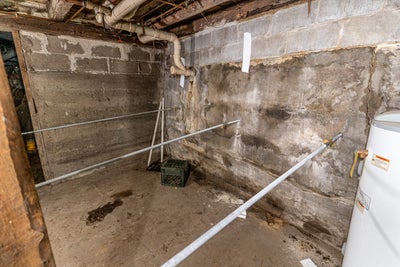 Install Exterior Earth Anchors: We place an earth anchor into the dug hole and connect the rod to the earth plate.
Waterproof: Using several products, we permanently waterproof the hole.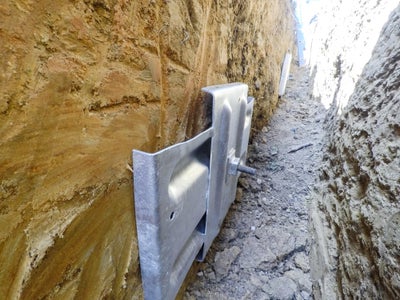 Attach Interior Plate: The wall plate is added and secured to the wall. 
Tighten and Secure: The wall anchor system must be tightened to the correct torque. The amount of torque depends on the type of wall you have.
Repair Landscaping: Soil is placed back into the hole and compacted down to prevent any future settlement.
By following these steps, our experts can halt further foundation inward movement and, in many cases, potentially correct leaning walls.
Why FSM's Wall Anchor Solution Is the Best Choice for Your Home 
Our inspectors and installers work in your neighborhood and are familiar with the unique soil and climate here. Our wall anchors ensure the safety and integrity of your home's foundation for decades to come.
For lifelong stability against foundational issues, rely on the wall anchor solutions from Foundation Systems of Michigan.
Schedule your free inspection today!
FAQs
Installation durations can fluctuate based on the scope of the project and the level of foundation instability. Generally, expect the process to last anywhere from one to three days. 
Our installation techniques are crafted to limit any impact on your outdoor spaces. We exercise caution to preserve your landscaping, restoring it to its initial state as best we can.
Absolutely, our wall anchor systems are versatile and can be applied to diverse foundation types, such as cinder block or poured concrete. Our experts will assess your unique circumstances and suggest the most effective strategy for you.