Basement Waterproofing and Crack Repairs in Troy, MI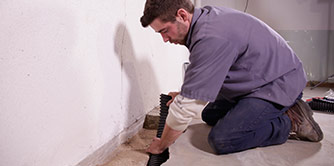 Foundation Systems of Michigan is proud to serve the Michigan area and we pride ourselves on putting customer service first. Our trained technicians use only high quality products and time-tested methods to ensure that you get the best results for you home. We want to work with you to find a solution that will work best for you!
Issues with waterproofing in a basement can be the result of a number of things including leaky pipes, wet soil, or even sump pump failures. Even seemingly small things like a musty odor or condensation can be indicators of a bigger problem. When moisture and water is left alone in a basement, that becomes a breeding ground for mold and mildew. The problems can be fixed with products like waterproof walls and floors which seal out moisture and bugs. Professional-grade sump pumps like the TripleSafe sump pump work uniquely well to keep your basement dry and when installed with dehumidifiers, you can be sure your basement will be healthy and humidity-free.
We also offer professional crack repairs for cracks in your floors or walls. Unlike other contractors' methods, our special polyurethane sealant is fast-curing and will never dry out or re-crack over time. Other epoxies won't stretch with foundation movement or expand and shrink with the concrete walls during freeze/thaw cycles, but ours will. Our crack repairs are clean, professional looking, and come with a lifetime written warranty.
Professional Foundation Repairs and Interior Concrete Lifting
Foundation repairs seem like a tricky task to tackle at first but when you experts like the folks at Foundation Systems of Michigan, repairs can be simple and long-lasting. The major cause for problems in a foundation is shifting, weakened soil that can't hold up the structures of the house anymore.
Common warning signs of foundation problems:
Uneven or sloping floors
Cracks in the floor
Cracks in interior wall
Inward bowing walls
Sagging floors over a crawl space
Hard to open windows and doors
Tilting chimneys
Street creep
Cracks in exterior wall
Problems such as these can be fixed by installing products that are proven to have lasting, permanent results. Foundation piers and jack posts can remedy cracked, sinking floors by finding sturdier soil that will support the weight of the structure better. Wall anchors and I-Beam wall braces can correct bowing, leaning walls and keep them that way.
Our concrete lifting services are top-of-the-line and have proven, lasting results. The PolyLEVEL interior concrete lifting system injects the epoxy underneath the concrete, raising it to the appropriate height so that it is even with the concrete around it. This is not only a quick, easy solution, but it is also far more cost-effective than it would be to replace the entire concrete slab.
Exceptional Crawl Space Repair and Encapsulation in Troy, MI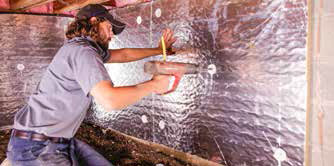 Though one of the more neglected areas of the home, the crawl space can cause a variety of problems for other areas of the home, including the foundations, if left unchecked. Signs that a crawl space is a problem area and a health risk include: mold growth, wood rot, sagging floors, and musty odors. These can be caused most often by water damage and debris left over from the original construction of the house.
Repairing rotted wood and support beams is vitally important when a crawl space falls into disrepair since these can affect the foundations of the house as well. We can install jack posts that will keep the supports in the crawl space form allowing floors to sag. Additionally, we have stellar encapsulation services to seal out moisture and bugs with our vapor barriers and dehumidifiers.
Foundation Systems of Michigan has the expertise to get the job done right the first time. Our team of friendly, knowledgeable staff and certified technicians want to work with you to find a solution that will work best for you. Call us today for a free estimate!