We not only adhere to the highest industry standards, we strive to be Traverse City's industry leader in the home improvement related services we provide. We use state-of-the-art products and technology that are designed to fix and improve your home's structure and design. We are the authorized CleanSpace Crawl Space, Basement Systems and Foundation Supportworks dealer in Traverse City, MI.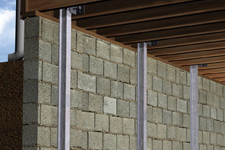 Problems with foundations often stem from broken soil or soil that has been weakened to the point where it can no longer support the weight of the structure. Major signs of foundation disrepair are:
Uneven or sloping floors
Cracks in the floor, the interior wall, and the exterior wall
Inward bowing walls
Sagging floors over a crawl space
Hard to open doors or windows
Tilting chimneys
Street creep
Cracks in the exterior wall
When this happens, the best thing to do to remedy the problem is to install foundation piers and jack posts which will fix uneven, sloped floors. Additionally, wall anchors and I-Beam wall braces can correct walls that are leaning or bowing inwardly.
Trusted Basement Waterproofing & Crack Repairs in Traverse City, MI
Problems with basement waterproofing are often the result of leaky pipes, sum pump failure or flooding during heavy rainfall. If you're tired to walking through a wet, musty basement, then reclaim your home with our vapor barriers and efficient drainage systems that are sure to keep your basement clean, dry, and beautiful. Not sure if you have a serious waterproofing problem? Some of the major indicators are:
Wet or damp basement floor
Leaking or damp basement walls
Pooling or standing water
Crystaline deposit on concrete surfaces
Musty odors
Condensation
Don't settle for ugly cracks in your walls or floors and call the professionals at Foundation Systems of Michigan today to install expert repairs. Our polyurethane sealant is designed to be fast-curing and not crack or dry out over time. Walls usually expand or shrink slightly due to weather. Our sealant is designed to bend and stretch with the walls, ensuring that it seals permanently.
Expert Crawl Space Encapsulation & Structural Repairs in Traverse City, MI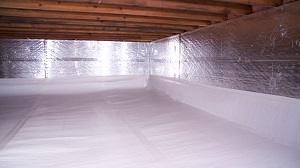 As an area of the home that can often be neglected, crawl spaces can become a breeding ground for mold, mildew, and even small pests or animals. With our crawl space encapsulation system, we install vapor barriers, thermal insulation, and dehumidifiers to turn your dirty, unsafe crawl space into a clean, healthy, and energy-efficient area of your home Additionally, we also offer professional repairs for support beams that have been destroyed by wood rot by installing our crawl space jack posts.
Major signs of a crawl space problem:
Sagging floors
Condensation
Mold
Wood rot
Foundation cracks
Foundation Systems of Michigan has the tools and the expertise to get your job done right the first time. Our knowledgeable staff and friendly, certified technicians want to help you find a solution that will work best for you home. Call us today for a free estimate!