Expert Basement Waterproofing & Crack Repairs in Sterling Heights, MI
Here at Foundation Systems of Michigan, we believe in the value of customer service and are proud to serve our area. We use only high quality products, installed by our excellent team of certified technicians so that you can be sure of long-lasting results. We want to work with you to find the solution that will work best for you!
When your basement suffers from water damage, it can cause musty smells, a breeding ground for termites, and even promote allergic discomfort. Most of the time, basement waterproofing issues stem from leaky pipes or even sump pump failure. Foundation Systems of Michigan's expert technicians can install products that are proven to seal out moisture and humidity while keeping your basement clean and dry, making it a more healthy, beautiful space.
Major indicators of basement waterproofing problems:
Wet or damp basement floor
Leaking or damp basement walls
Pooling or standing water
Crystaline deposit on concrete surfaces
Musty odors
Condensation
Tired of looking at ugly, nasty cracks in your floor or walls? Our polyurethane sealant is uniquely designed to be fast-curing and won't dry out or crack over time. Most concrete walls expand or shrink slightly with the weather, but our sealant will bend and stretch with the walls, making them a permanent solution.
Respected Foundation Repairs and Interior Concrete Leveling in Sterling Heights, MI
Issues with foundations in a home are often the result of shifting, weakened soil that can no longer support the weight of the structure. Some of the major signs of a problem are:
Uneven or sloping floors
Cracks in the floor, interior wall, or exterior wall
Inward bowing walls
Sagging floors over a crawl space
Hard to open windows and doors
Tilting chimneys
We have excellent products like foundation piers and wall anchors to straighten and stabilize walls and repair street creep. Trust your home to the professionals at Foundation Systems of Michigan today!
For uneven, unsafe concrete in your home you need the PolyLevel Concrete Lifting System. The PolyLevel solution gets injected under the concrete slab, raising it to just the right height, making it quicker and easier than traditional methods of removing the entire concrete slab, not to mention that it's also more long lasting and cost-effective.
Dependable Crawl Space Encapsulation and Structural Repairs in Sterling Heights, MI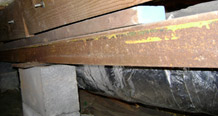 Don't settle for musty smells and mold in your crawl space. Dirty, humid crawl spaces can become a breeding ground for pests, mold, and mildew which can affect your home's general air quality as well as damage foundations. Some of the major signs of a crawl space problem are:
Sagging floors
Condensation
Mold
Wood rot
Foundation cracks
By installing vapor barriers, thermal insulation, and dehumidifiers, you can seal out humidity and bugs while improving your home's air quality. Additionally, we also offer expert structural repairs using jack posts for wood supports corrupted and damaged by wood rot.
Foundation Systems of Michigan is committed to customer service because we know our area. Our knowledgeable staff and certified, trained technicians want to put their expertise to work to find a solution that will work best for you home and your budget. Call us today for a free estimate!