Trusted Basement Waterproofing & Crack Repairs in Flint, MI
Foundation Systems of Michigan is committed to customer service and is proud to serve our area. We have a certified team of technicians that are ready to help you find the best solution using quality products from the best manufacturers in the business. We want to work with you so that you can have the best results for your home!
Problems with your basement's waterproofing often stem from smaller problems like leaky pipes, sump pump failure, or flooding during heavy rainfall. We offer proven, patented products that are sure to turn your wet, water damaged basement into an energy-efficient space that you can enjoy. Some of the major signs of a basement waterproofing problem are:
Wet or damp basement floor
Leaking or damp basement walls
Pooling or standing water
Crystaline deposit on concrete surfaces
Musty odors
Condensation
Whether it's cracks in your walls or floors, we have the products that will provide a quality long lasting solution. Our special polyurethane sealant is fast acting and won't dry out or crack over time, making it the superior choice for your home. Our epoxies are able to bend and stretch along with the movement of your foundations, allowing it to shrink or expand slightly as your walls do.
Excellent Foundation Repairs in Flint, MI
Problems with foundations often stem from broken soil or soil that has been weakened to the point where it can no longer support the weight of the structure. Some of the major signs of foundation problems are:
Uneven or sloping floors
Cracks in the floor, interior wall, or exterior wall
Inward bowing walls
Sagging floors over a crawl space
Hard to to pen windows and doors
Tilting chimneys
Street creep
When this happens, the best thing to do to remedy the problem is to install foundation piers and jack posts which will fix uneven, sloped floors. Additionally, wall anchors and I-Beam wall braces can correct walls that are leaning or bowing inwardly.
Dependable Crawl Space Encapsulation & Structural Repair in Flint, MI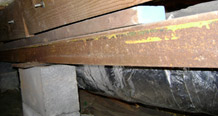 Does your crawl space have a musty smell, wood rot, or sagging floors above it? Then you need to call in the professionals at Foundation Systems of Michigan to provide you with an expert solution, using proven, patented products. Our crawl space encapsulation system, which includes vapor barriers, thermal insulation and dehumidifiers, is sure to seal out humidity and bugs while sealing in good air, keeping the space clean as well as energy-efficient.
Signs of a crawl space problem:
Sagging floors
Mold
Wood rot
Condensation
Foundation cracks
If you've noticed mold on your support beams, it can be one of two things: surface mold or wood rot. While surface mold can be repaired and scraped off, wood rot cannot be repaired so easily and often requires that the entire beam be replaced. With our crawl space jack posts that work to add extra support to failing beams, you can provide a solution to sagging floors.
Foundation Systems of Michigan has the tools and the expertise to get your job done right the first time. When you call our friendly staff and certified, trained technicians, we will go to work to find a solution that will not only fit your home, but also your budget. Call us today for a free estimate!