Professional Basement Waterproofing and Crack Repairs in Detroit, MI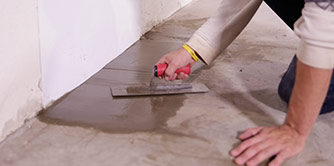 Foundation Systems of Michigan proudly serves Southeast, Central, and Northern Michigan. We pride ourselves on putting customer service first because we to find the best solution for you. Our trained technicians use only high quality materials and time-tested methods so that you can be assured of beautiful, quality, long lasting results.
Issues with your basement's waterproofing can present themselves in a variety of ways, including musty odors, puddling of water on the floor, mold growth, and condensation. Many of these problems can be caused by sump pump failure, leaky pipes, or flooding during heavy rainfall. There are different ways to remedy such problems like waterproof walls and floors which seal out moisture and bugs, creating an energy-efficient space. As well, by installing a professional-grade sump pump like the TripleSump, you can be extra sure that your basement will stay dry.
We also offer expert wall and floor crack repairs. Our special polyurethane sealant is fast-curing and won't dry out or re-crack over time making it a permanent solution to ugly cracks. Many other crack injection repairs leave a mess on your foundation wall, but with our system, you get a professional, clean result.
Expert Foundation Repairs and Concrete Lifting
Foundation disrepair is a serious problem in a home and can compromise the overall structural integrity of the house. The main reason for shifting, cracking, or sinking in foundations is weakened soil that is no longer able to support the weight of the house. Our products are proven to remedy these problems and provide a permanent solution. Wall anchors and I-Beam wall braces work to correct bowing, leaning walls and foundation piers and jack posts can help fix cracked, sinking floors.
Common warning signs of foundation problems:
Uneven or sloping floors
Cracks in the floor
Cracks in interior wall
Inward bowing walls
Sagging floors over a crawl space
Hard to open windows and doors
Tilting chimneys
Street creep
Cracks in exterior wall
Problems with uneven concrete on your sidewalk, patio, or even inside your home? Then we have the solution for you! The PolyLEVEL concrete lifting system is proven to have excellent, long lasting results. The PolyLEVEL is injected underneath the concrete so it isn't necessary for the whole concrete slab to be replaced which is more cost-effective as well as quicker and easier.
Crawl Space Repairs and Encapsulation in Detroit, MI
Troubles with crawl spaces can be caused by a variety of things including water damage, and debris left over from the original construction of the house. The major signs there is a significant problem are mold and mildew growth, wood rot, sagging floors, and even foundation problems.The best way to start to fix this is to install a vapor barrier to lock out moisture and bugs while keeping the space energy-efficient. Dehumidifiers and thermal insulation ensure that the area stays dry and that the area stays a healthy atmosphere.
Foundation Systems of Michigan has the expertise and tools needed to to find the solution that will work best for your home. Our team of trained technicians uses only the best materials and time-tested methods to get you the results you want to see. Call us today for a free estimate!