Professional Crawl Space Repairs and Encapsulation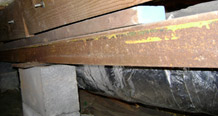 Foundation Systems of Michigan is the local contractor that you can trust to get the job done right. Our expertly trained technicians use only high quality materials and methods that have stood the test of time. We want to work with you to find a solution that will work best for you and your home and give you long-lasting results.
Crawl space disrepair can come from a number of sources including water damage and debris left over from the original construction of the house. Some of the major signs of a problematic crawl space are mold growth, wood rot, musty odors and sagging floors. If left to themselves, these problems will reek havoc on a house's foundations and even pose a health risk.
We have the products to remedy crawl space problems with our crawl space encapsulation system. By installing vapor barriers in your crawl space, you can block out moisture and bugs while sealing in good, clean air. Dehumidifiers and thermal insulation also can work to keep the area clean and energy-efficient. Additionally, we can also repair rotted wood beams and supports and install jack posts to fix sagging floors.
Dependable Waterproofing and Crack Repairs
Waterproofing problems can stem from a number of areas including leaky pipes, sump pump failures and flooding during heavy rainfalls. These problems can seem daunting, but we have the products to provide easy solutions to them.
Symptoms of a waterproofing problem
Wet or damp basement floor
Leaking or damp basement walls
Pooling or standing water
Crystaline deposit on concrete surfaces
Musy odors
Condensation
Sump pump issues
We can install waterproof floors and walls that will seal out moisture and bugs while having a clean, beautiful look. By installing a professional-grade sump pump like the TripleSafe sump pump system, you can also avoid flooding mishaps in your basement. For cracks in you walls or floors, we have a special polyurethane solution that is fast-curing and will never dry out or re-crack over time. The end result is a professional looking crack repair that includes a lifetime written warranty.
Foundation Repairs and Interior Concrete Lifting in Dearborn, MI
Problems with foundations can become severe if left in disrepair for too long, so when an issue with foundations does come up, it is important to enlist the help of professionals like the folks at Foundation Systems of Michigan. Foundation issues can stem from a variety of sources, but most often when a problem does arise, it is because of weakening soil that is unable to support the weight of the house structures.
Uneven concrete either in your house or garage can be a major tripping hazard. By using the PolyLEVEL concrete lifting system, we can fix your uneven concrete without removing the entire concrete slab. The PolyLEVEL solution gets injected underneath the concrete which raises it to its appropriate height so that it can be even again. This method is not only quicker and easier, but it is more long lasting and cost-effective.
Foundation Systems of Michigan has the tools and the expertise to get the job done right. Our team of trained, expert technicians use only high quality materials and methods that have stood the test of time. This ensures that the results you see in your home will be professional and long lasting. Call us today for a free estimate!