Crawl Space Structural Repair & Encapsulation
Experienced Crawl Space Contractor in Michigan, focused on vapor barriers, support jacks & other dry, healthy crawl space solutions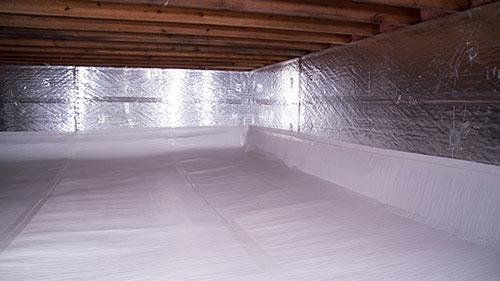 Our innovative crawl space liner will ensure that the space stays watertight and mold-free.
Your home is a system, and every part of that system plays a role that affects the rest of the structure. If your crawl space begins to rot, grow mold, or experience structural problems, this will extend to every part of your home.
At Foundation Systems of Michigan, we specialize in crawl space solutions of all types. We offer free crawl space inspections in the Michigan area, including Ann Arbor, Saginaw and nearby.
If you're having a problem with your crawl space, you've come to the right place. Whatever your issue, we have the products and experience that you need to find the best solution.
Not only will crawl space repair help you protect the structural integrity of your home, it will also create a healthier living space and save money on your utility bills. In addition, once you've encapsulated your crawl space with our patented VaporLoc Elite® System you will gain valuable storage space in your home.
Our crawl space services include:
Foundation Systems of Michigan offers high-quality, industry-leading crawl space repair products that will transform your damp, musty crawl space into a clean and dry area that will stay watertight for years to come. To find out more about our crawl space repair services such as complete crawl space encapsulation, structural repairs, wall insulation, and more, don't hesitate to give us a call.
Our crawl space services are available in Ann Arbor, Saginaw, Traverse City, Midland, and areas nearby in Michigan. Contact us online for a free, no-obligation cost estimate!
Looking for a price? Get a no cost, no obligation free estimate.