Repairing Indoor Settled Slabs in Michigan
Look familiar? Large concrete cracks, similar to the one above, are a sure sign of slab settlement. Contact Foundation Systems of Michigan today to restore your foundation to a level surface!
Identifying Causes & Solutions for Sinking, Damaged Concrete Inside Your Home
Signs of Slab Settlement:
Large cracks where slabs drops on one side
Flooring or carpeting with severe dips or depressions
Gaps under doors
Sinking footings
Cracks in foundation
In the past, when slab would settle inside the home, homeowners had very limited options. Whether the affected area was in a basement, garage, screened-in porch area or a first floor build on an on-grade slab, there were three common solutions.
The homeowner could pour a self-leveling concrete to bring the surface back to level, or they could choose to tear out the old concrete and replace it. Both are messy propositions with no assurance that the settling won't continue.
A third option, which is most effective, would be to install piers and brackets around and/or through the slab and then raise it with jacks. This solution would stabilize the slab but at a significant cost and disruption.
No longer. Today's PolyLevel® technology allows technicians to use geopolymers to raise sections of settled slabs quickly, and without the mess of demolition, the use of heavy-duty machinery, or the high costs associated with these kinds of repairs.
Free Concrete Repair Estimate!
If your foundation is beginning to sink or settle, contact us today. We provide a thorough inspection of your property and the best possible solution to repair it. All of our work is fully-warrantied!
What Caused It:
Different types of soil have different load-bearing capacities. When a soil's load-bearing capacity is exceeded, the soil will compact and settle. It's also possible for the soil beneath a slab to settle and compact of its own accord.
Soil that contains large amounts of clay and/or silt will shrink substantially when it gets dry. As the soil compacts underneath a concrete slab, the unsupported slab will sink as well, usually cracking in one or more spots.
Other reasons for slab settlement:
The size of the footings
Weak concrete used in the footings or slab
Absence of rebar in footings or slab
Absence of gravel beneath footings
Washout of soils under footings and slabs
Improperly compacted soil beneath the slab
How to Fix It:
We fix concrete slabs that have settled using a technique called polymer injection, an improvement upon conventional mudjacking and slab jacking methods. Polymer injection, or PolyLevel®, can actually consolidate weak underlying soils and raise concrete slabs because the polyurethane formulation expands before it cures.
The hardened mass is much lighter than the concrete slurry used for mudjacking, making further settlement unlikely.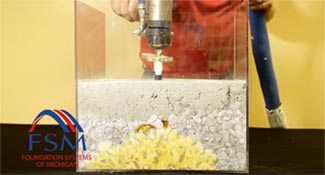 Learn more about PolyLevel®; the new geopolymer injection process designed to lift and stabilize concrete slabs.
Contact Us For Settling Concrete Slab Repair in Ann Arbor, Saginaw, Midland, MI!
Modern concrete repair methods will do more than simply stabilize the sinking concrete. With the new polymer injection product, PolyLevel® (produced by Supportworks, Inc.), we can strengthen the soil's load-bearing qualities and lift and realign the settled concrete.
Our in-house contractors at Foundation Systems of Michigan specialize in structural stabilization for foundation problems of all kinds -- including sinking footings and settling indoor concrete slabs.
We offer free settling concrete quotes throughout our Michigan service area. To schedule your appointment, contact us by phone or e-mail today!
We proudly serve Southeast Michigan, including Ann Arbor, Auburn Hills, Monroe and nearby.
Looking for a price? Get a no cost, no obligation free estimate.