Basement Finishing Expert in Michigan
---
Would You Buy a Shiny, New Replacement Vehicle and Not Protect it with Insurance?
Of course not, then why would you finish your basement without protecting it against water damage?
We at Foundation Systems of Michigan bring the waterproofing expertise and know-how to the frontlines of basement finishing in Michigan.
The truth is, half of the basements we repair and waterproof have already been finished. Even a finished basement can endure water problems such as leaking pipes and HVAC units for example. Unfortunately, finishing a basement doesn't always tackle the water issue, costing the homeowner tens of thousands of dollars in damages.
In many cases, the previous contractor didn't have the materials or the understanding to do the job right. If the root of the problem doesn't get addressed right away, it will continue to wreak havoc on any homeowner-- even you.
Let's keep in mind there are only 2 types of basements: ones that leak and ones that will leak! We know this and have implemented a basement waterproofing system that works hand-in-hand with our revolutionary and easy-to-install VLE Wall System.
VLE Wall System -- A Waterproofer's Response to Basement Finishing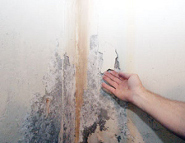 What do your basement's walls look like right now? Can you imagine what they'll look like in the next few years? If your walls are made and finished with organic materials such as drywall, paint, and wood accents, the walls are prone to flaking, chipping, mold growth, and severe water damage effects.
There's an alternative to dealing with these mentioned, costly repairs-- VLE Wall System.
This patented and revolutionary paneling system is easy to install and adjust to fit and complement your basement. Basement not finished? No problem.
A Waterproofing Mentality to Basement Finishing
There's one major difference between finishing a room on the main level and finishing a room in your basement: moisture.
Unfortunately, moisture isn't a consideration for the average basement finishing contractor that uses the same standards for your basement that they would on the main floor. This means in just a few months time, mold and bacteria will be growing rapidly on the wood, drywall, paneling, carpeting, and padding-- which are typical building materials for main level finishing and NOT for a basement.
Most building products are all organic materials, meaning their particles hold and absorb moisture, giving mold and bacteria a food source in your basement. Your basement is damp, musty smelling, and inviting to mold growth.
When it comes to finishing a basement correctly and achieving a long term, comfortable, healthy environment; FSM has the technology, skill, and know-how to deliver beautiful results! We bring a waterproofing mentality to the basement finishing world-- a must in this wet and dark environment.
One Company -- The Whole Solution: The FSM Difference
Licensed Residential Builder
Fully insured
Over 70 combined years in the construction industry
We obtain all necessary permits
Most projects are completed in 1 week or less
Peace of mind- call one company for all your needs and wants
Patented products designed for controlling water and humidity in moist environments
Work warrantied against basement seepage
The end result will feel like the main level of the home (maybe even better)

It Pays to Build on a Healthy Foundation: Call for your Free Quote Today!
Free Basement Finishing Inspection
If you're interested in having your basement finished, fill out our simple form for a free inspection. We will be more than happy to come out, take a look, and provide you specific details on how to remodel your basement and protect it against water damage-- all at the same time!